Each year, we run a 30-week trainee programme that starts in Spring and ends in Autumn. We invite one individual to work and learn directly under the guidance of Stuart with Trainees paid national living wage on a fixed-term, 4-day week contract.
This unique position gives the successful candidate their first steps into land-based industry, towards an eco-focused career in horticulture or in construction. It will give you the opportunity to learn from Stuart's values driven approach and big-picture thinking along with open access to the wide-ranging skillset he has developed over the course of his career.
It is equally suitable to school or college leavers as well as career-changers and carries the option of returning for a second season for the right person. No experience is necessary but a pro-active and positive nature is essential with a willingness to work outdoors in all weathers.
Most of the work takes place in residential gardens within an hour's drive from the company's yard in Battle, East Sussex. You will need to be able to arrive on site for an 8am start, or at our yard no earlier than 7am. Collection at a convenient location may be an option. Our day on site finishes at 4pm. Work may also take place at Stuart's own small workshop and permaculture-inspired garden project in St. Leonards on sea.
Applications for 2023 are now closed. We will start accepting applications for the 2024 Traineeship from 31 st October 2023. You can email stu@thegardenlandscapers.com for more details.
Trainee - Ben Ellis
Ben began his traineeship with Stuart in August 2021 and will leave the company this Spring with a promising career ahead of him as a Landscaper.
Here's what Ben had to say of his time working with The Garden Landscapers…
My time as a trainee with The Garden Landscapers by Ben Ellis
The implications of the Covid-19 pandemic were vast and varied. I was lucky; I didn't lose a loved one, endure ongoing health issues or suffer the severe isolation so many did. However, for me (and for many others), the lockdowns prompted a reflection on my career and the desire for a complete change.
My initial plan was to pursue arboriculture, mainly for two reasons: (1) climbing trees (brought about by my interest in rock climbing) and (2) chainsaws are pretty cool. Landscaping was the second option. I did some work experience with some tree surgeons, which I enjoyed, then worked with Stuart (of The Garden Landscapers) on a small walled garden in Hastings. Quickly, it became obvious landscaping was the preferable option for me. I was attracted to the creativity; the variation in the work; and the idea of seeing a project through from a drab lawn or overgrown mess to a glorious garden boasting a variety of shapes, colours and forms.
I had very little experience with gardening or using tools and no experience of the construction side of landscaping. I remember my first day working with The Garden Landscapers setting out a tiered sleeper wall on a site completely stripped of vegetation. I had no idea what was going on, holding string lines and knocking in road pins as instructed, creating a series of neatly ascending parallel lines. I was still none the wiser by the end of setting out!
But setting out isn't necessarily a beginner's skill. As a novice I quickly learned the importance of being a reliable labourer onsite. Being on hand with the appropriate tools for the job, mixing sand and cement, cutting bricks and slabs, using basic plant machinery such as a track barrow are amongst the fundamental skills of being a hard landscaper. They act as a jumping off point to more skilled work; how can you lay a slab if you can't mix sand and cement for the bedding layer? Why struggle with the nuances of an excavator's controls when you can get to grips with the simpler controls of a track barrow first?
Developing the fundamental skills, I became aware of how transferrable they were across different aspects of landscaping. Simply knowing what tools are needed for each job is such an underrated skill. It's hard enough to remember every tool for a job off the top of your head even when you do know what is needed. As a landscaper you cover a wide range of disciplines from stonework to carpentry to horticulture to plant operation. This variety is one of the joys of the job despite needing everything but the kitchen sink to get the job done!
As I progressed totrying my hand at more skilled work, the work just became more interesting and enjoyable. I was able to work more independently and have more input on a task. One job, a large area of reclaimed Yorkstone paving, was the first time I properly tried slab paving. It was a challenging introduction to paving as the slabs were both irregularly sized in length and width and irregularly sized in depth. This required cuts on almost every slab and a different bedding layer depth for each slab. We also used a 2:1 sharp sand and lime mix for pointing, a traditional form of pointing, which really complemented the reclaimed paving. At the end of the project, the Yorkstone looked so smart and worked well with the house and the rest of the garden. This remains one of my favourite jobs.
There have been challenges too. I started landscaping at the age of 28. I find being a bit older can be more daunting when starting something new, rather than being fresh out of school or college when everything is new. Coupled with the fact I essentially had a lot of catching up to do, it was hard to tell whether leaving a fairly stable job was the right thing to do (it was the right move, it turns out). As for site specific challenges, a particularly challenging job installing gates on a farm during winter involved battling some horrendous weather and conditions resulting in soaked clothes, vehicles stuck in the mud and frozen digger tracks. Hats off to farmers, I'll stick with gardens! A personal challenge for me was learning how to reverse a trailer where you wanted it to go; that took me a while to get the hang of. And on a final note, if you ever decide to build a greenhouse, accept that you might experience a little frustration along the way.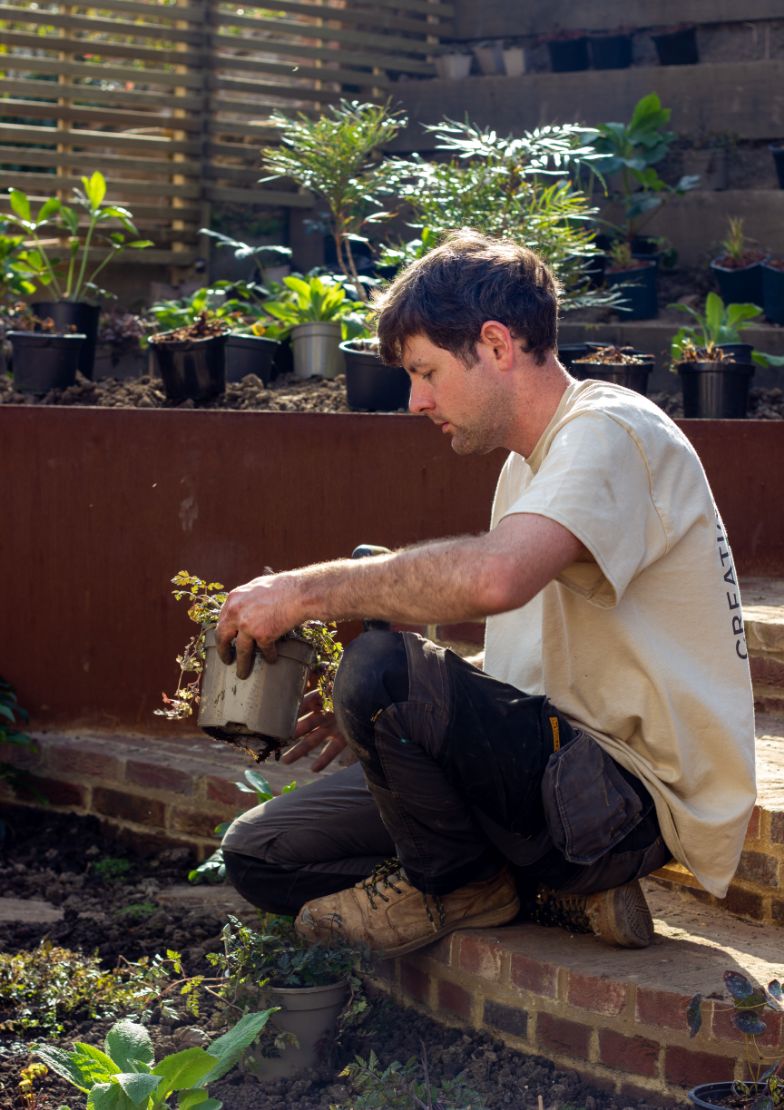 Strangely, it can be easy to forget about the horticultural side of things when reflecting on past garden builds. This is because the hard landscaping is the most time-consuming part of a project. Planting happens towards the end of the build and is done relatively quickly. Having said that, the introduction of the first bit of green, after focusing on stone or timber for several weeks, completely transforms the space. Planting trees is fun and their height and shape immediately adds a new dimension to a garden. I have recently moved into a flat with a garden and can't wait to try out a planting design of my own. There's so much to learn about with plants and planting design which I have only scratched the surface of so far and I look forward to implementing knowledge gained from my own garden into my landscaping career going forwards.
I've been landscaping for a year and 8 months now and it feels crazy the amount I have learned in this time. Stuart has been very generous in the great variety of knowledge and skills he has taught me during this time and I am grateful for these opportunities to learn. Landscaping is an industry which marries both the practical and the creative really well. I have found knowing how and why something is done increases creativity. Having a grounding in the practicalities and accepting the limitations of an area may decrease the options available to you but in turn spurs the need for a creative solution, which often results in the best outcome for the area. Complementing this with other areas of the garden can create a truly special outdoor space.
In a time when outdoor spaces are becoming more important and precious, it feels an exciting time to be starting a career in landscaping. I hope more people will make the most of their gardens, whether it be a complete transformation or small changes, like planting to attract pollinators. If more people enjoy and invest time in their garden it would be a much more wholesome world and, who knows, it might even keep me in a job!